The official box photo by Tiffany.com Tiffany Suite of St. Regis Hotel by Luxury Travel Magazine
A toned-down color with the same effect, google images
Love this! Google images
A great paint color, google images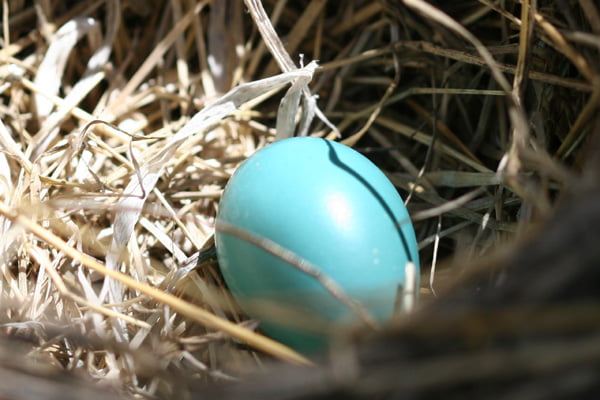 An actual Robin's Egg by 10000birds.com





I love the idea of Tiffany Box rooms. Those would be Hollywood Regency style with aqua walls and white furnishings, crystal lamps and chandelier. The actual color of the box is a bit much for all four walls of a small room, but lighter shades work just as well.
As I started surfing through google images looking for beautiful rooms done this way, I also started finding some rooms that used the color aqua in other ways, equally as beautiful. Claytongrayhome.com has an aqua table lamp, Zgallerie has a Miraposa line of aquamarine items, and Mimosa Aquamarine bedding, and other items in Aqua.
This room from google images uses the colors with much less blue
Benjamin Moore Paint offers the color-match to the box, see http://data.whicdn.com/images/10997763/3508996768_cf9e0efd83_z_thumb.jpg?1308540217
Sherwin-Williams Paint color "spa" #6765 is a lighter shade of the same color, for a softer effect.
I would like to add that color is relative. If you buy an aqua item and make the paint color match it, or be some intentional variation of the color, nobody will know or care if it is exactly the color of the box. Interior colors are affected by light, greenery outside the window, the color of the floor, the paint finish, the texture of the colored item, and so on. I think that aqua and white is a beautiful color scheme, however you want to use it.